<![if !vml]>

<![endif]>
<![if !vml]>

<![endif]><![if !vml]><![endif]>
About Pete

Sanfaçon
(pronounced "

Saffasawn

")
<![if !vml]>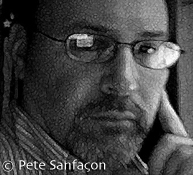 <![endif]>I was born in April 1959 in Rochester, New Hampshire, where I lived with my parents and my two brothers and two sisters until 1980. I graduated from The Art Institute of Boston in 1980, majoring in illustration. Within five months after leaving college I got a job as a technical illustrator at a photovoltaics R&D and manufacturing firm in Massachusetts. In 1987 I accepted a technical illustrator position at a Massachusetts computer chip maker. I'm still with that company today, where I now manage a team of technical illustrators. I'm a diehard fan of the Boston Red Sox and I've been to more than thirty KISS concerts since 1977.
Much of my youth was spent drawing on large, thick, drawing pads and on the back of large wall calendars on the living room floor. I enjoyed coloring books. Most of them were either cartoon characters or superheroes, but I also had a Beatles "Yellow Submarine" coloring book in the late 60's.
A Jon Gnagy Learn to Draw kit, given to me by my astutely observant godparents when I was about ten years old, was my first exposure to real drawing and shading, and was the first time I'd seen or used a kneaded eraser. Drawing has always been a big part of who I am. Despite that fact, I didn't take art in high school until my sophomore year. I quickly made up for lost time and received high grades for all of my artwork. Much of it—dating back to 1974—is available for viewing right here at Sanfaçon.com. I had to be taught to respect his own artwork in those early days when I would fold my homework in half in order to carry it to school inside a notebook. It was during those days in high school art class that I first experimented with all types of media. I enjoyed the variety and the challenges it presented, but I always returned to my first love: the pencil.
From 1977 to 1980, I attended the Art Institute of Boston (AIB). Being away from home and hearing negative critiques on my art on a fairly regular basis for the first time caused my self-confidence to take a nose dive—so much so that when it came time to choose a major for my second year, I chose graphic design over illustration.
<![if !vml]>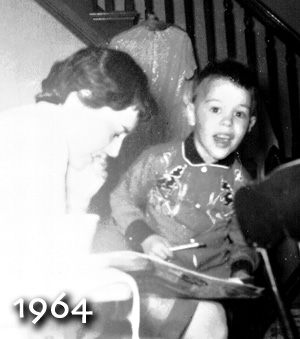 <![endif]>On Thursday, December 15, 1977 I took an all-expense-paid trip to New York City to see KISS for the first time at Madison Square Garden. This trip was the prize in a contest sponsored by Strawberries Records in Boston and included refreshments enroute, two nights' hotel accommodations at the Holiday Inn in Midtown, and two 9th row seats. This show was the second of three sold-out shows at the Garden while KISS was experiencing the very pinnacle of their worldwide success. During the band's 90-minute set, I managed to catch a drumstick thrown into the first few rows by drummer Peter Criss. This concert experience served to catapult me from just a typical, avid fan of the band to an obsessed fan of the band; a "KISS freak," if you will. It was a rare occasion when something other than KISS was heard blasting from my dorm room (on 8-track). I was eventually nicknamed "KISS Pete" by those who weren't simply frightened away.
In the fall of 1978, during the first semester of my second year at AIB, I quickly realized that I lacked any real aptitude as a graphic designer and my grades suffered accordingly. I also soon began drawing portraits of KISS on my own time. It eased my anxiety over my failing grades and my inability to 'get' design, and it helped rebuild my faltering self-esteem. A classmate had commented on how great he thought the drawings were and asked why I wasn't an illustration major. In early 1979, after a frustrating semester, I decided to listen to my heart and transferred out of Design and into the Illustration department. I proceeded to spend the next 15 months leading up to graduation honing my craft as best I could.
Sunday, May 18, 1980 marked two historical events: the eruption of Mt. St. Helens and the day I took my newly minted diploma from AIB back to New Hampshire to contemplate my future.
During the summer months while at AIB I worked as a landscaper. "Landscaper" is a euphemism for someone who mows lawns all day in the scorching heat for minimum wage. In July 1980 I took a couple of days off and drove to Boston in an effort to show my portfolio to a prestigious advertising firm and get hired on the spot. Within a minute of arriving, the receptionist asked, "Do you have an appointment?" to which I answered, "Uh, no." My visit to Boston was, therefore, brief and uneventful.
In September I was contacted by my brother about an opening for a technical illustrator at Spire Corporation where he had been working for two years. This interview went much better. I left Rochester for good on October 4, 1980.
I spent the next six years creating charts, graphs, and technical drawings for proposals and monthly reports. In those days technical illustrators used technical pens, drafting tables, and tracing paper. While at Spire I continued to draw on my own time, first touching up the KISS portraits I had done in '79 and '80, then creating new artwork, much of it for co-workers. An associate of my manager was kind enough to give me an informal portfolio review. This gentleman ran a small design firm northwest of Boston. He advised me to focus on my strengths and not to belabor or "over-draw" each piece.
I created artwork for a monthly ski club newsletter for another co-worker, and I created several spot drawings for a darts enthusiasts' magazine my manager published. My manager left Spire in 1982 and he and I stayed in touch, eventually doing some preliminary concept work on an illustrated book of adult nursery rhymes. The book idea, however, was shelved after only a few meetings.
Just prior to Christmas 1984, I created a Christmas card that featured a new signature "design." I still use this signature today.
<![if !vml]>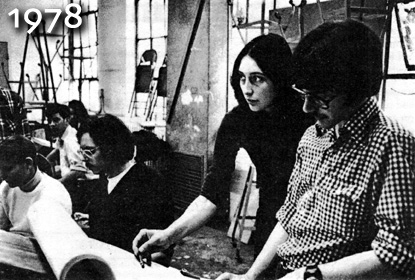 <![endif]>In 1985 I began what would become a 15-year commitment to creating original gag (or "panel") cartoons. Some of the early ones were rather crudely drawn and decidedly unfunny, but I was enthusiastic and motivated, and I had little doubt that I would eventually find my niche. Later that year, I began developing a cartoon book idea centering on heavy metal music fans. Fists in the Air was briefly shopped around to publishers but once it was clear I would have little chance of getting it published, I began developing a music-themed comic strip called Jimmy Riff. The project was abandoned after two full-page strips were created and published in a KISS fanzine.
In 1986, I accepted a position as a graphic artist at Visual Image Productions across town from Spire. In addition to very tedious film processing and 35mm slide mounting, I created original cartoons for slide presentations and portraits for company promotions. It was during this time (1986-1987) that I experienced my most prolific creative period since leaving AIB, producing close to a dozen detailed pencil drawings in just a few months [1, 2, 3, 4].
In October 1987, I began a one-year stint as a temporary technical illustrator at a local semiconductor manufacturing company.
I produced a self-promotional piece [front, back] during the spring of '88. This promo was mailed to select agencies in the Boston area but received no response and I was not particularly enthusiastic about following up the mailings with a phone call.
After a year of temping at the computer chip maker, I joined the full-time staff. In 1988, after three years of creating cartoons, I assembled what I deemed to be the best ones into a manuscript and began shopping it to publishers around the country. In March of '89, I accepted a proposal from a subsidy publisher and in 1991, 1,000 copies of the first edition of Freaks, Geeks & Chicken Beaks were released. Working with the editor/publisher over the next two years was a very frustrating experience for me, and I vow to steer clear of vanity publishers forever.
I've been entering at least one illustration at the Rochester Fair every year since 1992, winning First, Second, and Special awards. My very first entry at the Fair was a drawing of New Hampshire's Old Man of the Mountain in 1977, which was sold to a family friend for twenty bucks. I entered two of my early KISS portraits in 1979, winning two First Place ribbons, but I made no other entries until 1992. My 2002 portrait of Nomar Garciaparra won Second Place - Professional overall.
"Never forget: This very moment, we can change our lives. There never was a moment, and never will be, when we are without the power to alter our destiny. This second, we can turn the tables on Resistance. This second, we can sit down and do our work."
Steven

Pressfield


"The War of Art"
On June 30, 1993 I met the members of KISS for the first time outside the studios of Boston radio station WBCN. I was able to obtain autographs from drummer Eric Singer, lead guitarist Bruce Kulick, and bassist and co-founder Gene Simmons, chatting with Gene briefly before the band was hustled into their limousine. The following night, at a listening party at Avalon in support of their just relased "ALIVE III" and accompanying longform video "KISS Konfidential," I was able to meet each member of the band and have one of my 50+ KISS scrapbooks signed.
In 1995, KISS published a coffee table book entitled KISSTORY. This book chronicled the complete 20-year history of the band (at that time) from its inception in 1973. With the assistance of a KISS fanzine publisher, I had sent more than a dozen original drawings to the band the year before for inclusion in the book. Eleven of my KISS portraits made it into KISSTORY. None of the original artwork has ever been returned. Fame does have its price.
<![if !vml]>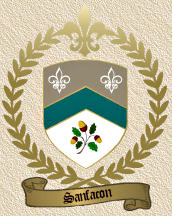 <![endif]>During the summer of 1998, I began developing a comic strip called Scarred For Life, which featured a dog named "Lenny" and a sarcastic rabbit named "Jack." Scarred For Life evolved into three distinct phases over the next two years, culminating in a month-long paid daily feature on the now-defunct Comicsedge.com (Tribune Media Services) in November 2000. After fifteen years of cartooning, I put down my Sharpie marker for good to focus on my pencil drawing.
Over the next two years, I continued working 9-to-5 as a supervisor while wondering just what I wanted to do with my art. I found himself gripped by depression and indecision. Working on a drawing seemed simple enough but determining just what I would draw was such a daunting mental exercise that I found every excuse imaginable for not getting down to doing the work. Once a new drawing was finally begun, there was no way to know when—or if—it would be finished. I'd been working off and on—mostly off—on a book about pencil drawing techniques. I hadn't spent much time drawing and this outlet had at least kept me thinking about drawing.
On March 31, 2003 I picked up The War of Art by Steven Pressfield and my life as an artist was changed forever. After reading the first third of the book and learning about Resistance, I dug out an unfinished drawing of a Corvette that had been lying dormant for months and spent ten minutes working on it. Those ten short minutes launched a series of very productive daily drawing sessions, something I hadn't taken the time to do since 1987. Over the course of the next twelve months, I produced thirteen detailed pencil drawings on subjects ranging from historic homes to baseball players to state landmarks to members of KISS.
In 2005, I completed a portrait called Navajo Boy that won Best of Show at the 2005 Rochester Fair in September. Paul With Guitar Under Leg was featured in the National Drawing Show, South Shore Art Center in Cohasset, Massachusetts ( December 2008–January 2009). My portrait of George Carlin won Best of Show at the 2014 Rochester Fair and my own Self-Portrait won Best of Show the very next year.
I'm continuing to rebuild my portfolio while battling that fire-breathing dragon known as Resistance every single day.
---
---